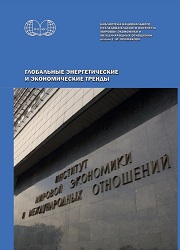 Global Energy and Economic Trends / Zhukov S.V., ed. – Moscow, IMEMO, 2019. – 194 p.Publication Type:
Collections of articles
ISBN 978-5-9535-0551-2
DOI: 10.20542/978-5-9535-0551-2
The compendium of articles presented at the sixth international conference, organized by the Center of Energy Studies, IMEMO RAS and Faculty of International Energy Business, Gubkin Russian State University (NRU) of Oil and Gas covers complex and multidimensional processes of world energy restructuring. Of special interest are the articles of scholars of the Center of Energy Studies, IMEMO RAS and Gubkin Russian State University of Oil and Gas Base Chair at IMEMO, that focuses on the electrification of road transport, energy transition in Germany, restructuring of natural gas sector in India and Brazil and Russia's cooperation with foreign countries in energy sphere.