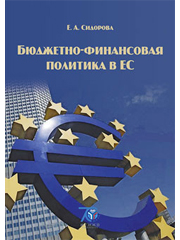 Sidorova Elena
Fiscal Policy in the EU. Manual. Moscow: MGIMO-University, 2014, 282 p.Publication Type:
Textbooks
ISBN 978-5-9228-1012-8
This Manual deals with Supranational Budget and Financial Policy problems in the European Union. The genesis and evolution of the budget policy are overviewed as the European integration progresses. The EU Common budget revenues and expenditures, the ways of structure reforming are examined, as well as novelties in the Lisbon Treaty related to the EU budget policy. Stability and Growth Pact, Fiscal Compact and the New Supranational Financial Regulation structure are analyzed.
The Manual can be recommended to Students and Professors, as well as to Postgraduate Students, Scholars, Authorities' Agents which Activity is related to Development of Economic Relations with the EU.