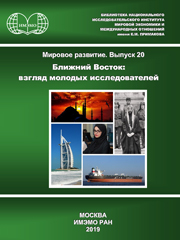 The Middle East through the Eyes of Young Researchers (Global Development, iss. 20) / Zvyagel`skaya I.D., Rovinskaya T.L., Timofeev P.P., eds. – Moscow, IMEMO, 2019. – 215 Publication Type:
Collections of articles
ISBN 978-5-9535-0560-4
DOI: 10.20542/978-5-9535-0560-4
The current issue of IMEMO periodical series «Global Development», published in memory of Evgeny Primakov, presents a collection of articles by young researchers of the Middle East. They are bachelors and masters, postgraduate students, young professionals from IMEMO and other academic and research institutes. The issue comprises several sections dedicated to history, foreign policy, security, domestic policy, ethnic and religious minorities, oil and development. The published articles provide an opportunity for a reader to get acquainted with approaches of the young researchers to historical subjects and current developments in the Middle East, and to appraise the quality of their analysis. The authors' point of view does not necessarily reflect the opinion of the publisher.