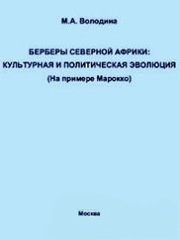 Volodina M., Malysheva Dina
Berbers of North Africa: political and cultural evolution (case of Morocco). Executive Editor D.B. Malysheva - Moscow, IMEMO RAN, 2011, 112 p.Publication Type:
Monographs
ISBN 978-5-9535-0296-2
The book by Maria Volodina dwells upon the role of Berbers (Amazighs) in social and political development of Morocco. It informs readers on the nature of this group's ethnic identity and social self-assertion as well as Berbers' political activity within the Moroccan political institutions. The book then applies its historical and political findings to the understanding of the nature of the contemporary "Berber movement" as part of the overall evolution of state/civil society relationships in Morocco. This book will be of interest to scholars keen on politics in transitional societies as well as to policy planners, media persons and the informed general reader.