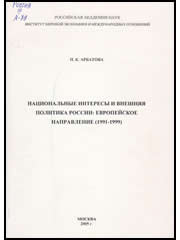 Mirskii Georgy
International Terrorism, Islamism and the Palestine Problem. Moscow, IMEMO RAN, 2003. Publication Type:
Collections of articles
The book contains three articles by Prof. Mirsky published in recent years in the journals MEiMO (World Economy and International Relations) and Tsentralnaya Aziya i Kavkaz (Central Asia and the Caucasus). The articles, revised and updated in the light of the latest developments, are devoted to the analysis of the factors responsible for the growth of international terrorism and the development of Islamic fundamentalism. The role of Arab-Israeli conflict, confrontation on the issue of the Palestine territories in particular, in the process of radicalization of «political Islam» is analyzed as well. Another article- «Has Totalitarianism Come to an End Together with the 20th Century?» published previously in the MEiMO, was also included in the book.